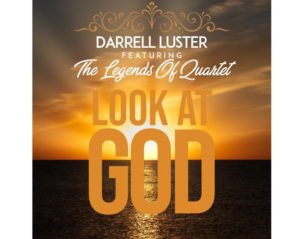 "Look at God"
Darrell Luster featuring the Legends of Quartet
4 Winds Records / Malaco Music Group
(release date: February 2020)
www.malaco.com
By Bob Marovich
What if Spencer Taylor Jr. of the Highway QCs, Rev. Thomas Spann of the Brooklyn All Stars, Willie Rogers of the Soul Stirrers, JoJo Wallace and Horace Thompson of the Sensational Nightingales, and Cleave Graham of the Pilgrim Jubilees got together to sing?
Further, what if they told the story of how hard the gospel highway was in the golden era?
That's what you get on "Look at God," a new composition by Darrell Luster who introduces the song. The gentlemen recall tough times traveling through the Jim Crow South, where they couldn't stay in hotels or eat in restaurants. They sold "millions of records" and "didn't make a dime." They had "plenty to complain about back then," notes Spann, but "look at God." It's a heartwarming ode to the resilience of the human spirit.
Check out the video, which features cameo appearances by longtime Malaco engineer Wolf Stevenson, president Tommy Couch Jr., and multi-instrumentalist Ray Braswell Jr.