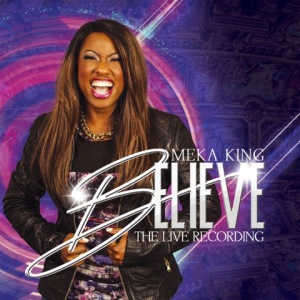 Meka King
Believe. The Live Recording
Sonflower Joy Music (rel. October 28, 2014)
www.mekaking.com
By Bob Marovich
Those who attended Praise & Worship Leader Meka King's live recording session at The Gathering Place Church in Sanford, Florida, on February 18, 2012, entered a gospel concert but exited a church service.
Believe. The Live Recording is King's sophomore CD and the product of the February 2012 recording session. The two-disc set is brimming with bold, dramatic P&W arrangements.  Most were recorded live, with a few final tracks sounding as if they were made in a studio.
After a theatrical spoken word intro, the program moves swiftly and energetically into a continuously-running set of power praise songs with relentless rhythms and optimistic lyrics.
It is when the tempo slows that the album comes into its own. King harmonizes sweetly with LaRue Howard and Charlyce Simmons on the ageless hymn, "Tis So Sweet," and from there, she moves into the thematic crux of the program—belief and hope. The two-part title track allows King to do a little sermonizing on the subject, which she does with the extroverted presence of a seasoned evangelist.
Disc Two opens with "Healer," another interpretation of the belief trope. As on Disc One, Disc Two's slower and more contemplative selections, such as "You're All I Want," are the most appealing. The King-penned "You're All I Want" is the best of her writing contributions to the album and could well enter the worship team circuit. In addition, King covers Chris Tomlin's P&W anthem, "Our God," and the Chris Allen Band's "God Is Bigger," which gets Christian rock-fueled support from Ashraf Jangda's buzzing electric guitar.
King's voice contains elements of gospel, jazz, and pop, and it is clear and robust, which suggests she has had professional vocal training. To that point, kudos go to King's vocal coaches, LaRue Howard and Christine D'Clario, for ensuring that she didn't blow her voice to bits after long stretches of intense singing.
With solid production by King and Jamaal Andrews, and learned pacing, Believe. The Live Recording will appeal most particularly to fans of P&W and live worship projects.
Four of Five Stars
Picks: "Healer," "You're All I Want."