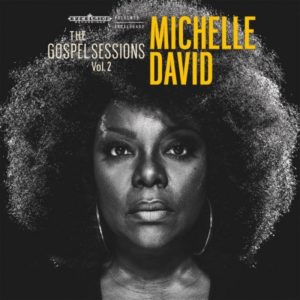 Michelle David
The Gospel Sessions Vol. 2
Excelsior Recordings
www.excelsior-recordings.com
By Bob Marovich
Ironically, Michelle David's The Gospel Sessions Volume 2 has such deep roots in Americana music that it probably would never be released by a U.S.-based gospel label.
The current clamor for big and bold gospel singing and stadium-sized musicianship has eclipsed the more subtle, but no less soulful, sacred sounds and nuanced artistry of singers like Liz Vice and, as she demonstrates on this album, Michelle David.
David, born and educated in New York and living in Holland since 1994, reunites with multi-instrumentalists Onno Smit, Toon Oomen, and Paul Willemsen to offer a follow-up to her well-received first volume of The Gospel Sessions. This second iteration feels like an informal jam session among friends experimenting with new ways to deliver timeless messages.
Both David and the trio showcase artistic extremes. David is two-voiced; she possesses a high soprano in which she can, and does, shout; and a deep, resonant alto that she flexes liberally and paradoxically on "Higher Ground." Meanwhile, the trio can rock like a garage band on "My Praise" and then offer country blues picking a la Charley Patton on "You're Rocking My Soul" and on "Psalms."  On the latter, Bible experts will grin when they recognize the stringed instruments reference by completing David's quote of Psalm 144 ("I will sing a new song to you").
Album highlights are David's bluesy "I Know the Lord," on which she riffs and shouts on "I Know the Lord Will Make A Way" but only to establish traditional credibility. Otherwise, it's a different song. Sobering in lyric and arrangement, "Tradewinds" explores today's unhappy society that is "living in sin and shame" and "children both rich and poor. . . searching for the truth / And if they don't find it, God help tomorrow's youth."  Dripping with melancholy, "Tradewinds" is reminiscent of another damning ballad, Dinah Washington's "This Bitter Earth."
The album's sole live track, "Baptized," finds David singing about the immersion experience in true wooden-church manner: thumping feet is the sole accompaniment. "Carry On," a prodigal son (daughter) story that focuses not on reaching the destination but on the persistence needed to journey back home, is the one selection on the album that could have used an even more dramatic arrangement than the stripped-down style that propels it here. The addition of strings to the track shows that the trio was well aware of that.
The Gospel Sessions Vol. 2 will leave listeners waiting eagerly for Vol. 3.
Four of Five Stars
Picks: "I Know the Lord," "Tradewinds."