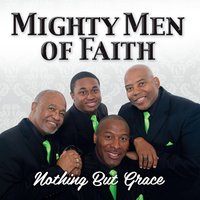 Mighty Men of Faith
Nothing But Grace
N2L Records (2014)
www.mightymenoffaith.com
By Bob Marovich
Nothing But Grace is the latest album by California's Mighty Men of Faith, a quartet that rolls contemporary, musically and lyrically.
Musically, the quartet paints a smooth patina—like an aural Dippity-Do—on their harmonies, giving the overall impression of a 1980s soul vocal group gone gospel. Likewise, the group's vertical praise lyrics have more in common with the repertory of today's small choirs than gospel quartets, which tend to stay faithful to verses about life's trials and faith in God as a solution.
The Mighty Men's harmonies are distinctive in this day and age because instead of blending in the treble clef they emphasize the bass for a fuller, creamier result. As a result, the singers sound better as an ensemble than as soloists. The harmonies work best on "I Thank God" and struggle a bit to find their way on "I Will Praise" and "God is My Supply," though the latter is saved by its trad feel, from the burbling organ to the bluesy verses.
"Run and Go Tell It" is the current single and illustrates the group's sound well, but "This Joy" is more interesting because of its retro funkiness. "Father These Things I Pray" is the loveliest song composition on the album. Written by Woody Woods, "Father" is a straight-from-the-gut bedtime prayer that sounds like a 1970s Christian song given a soulful interpretation. It is a sacred song with legs.
Mighty Men of Faith—Wendell Basey, Charles Johnson, Rev. Richard Hayes, and Rev. Ed Prothro-Harris—made their debut in 2009 and are up for five Rhythm of Gospel Awards.
Three of Five Stars
Picks: "This Joy," "Father These Things I Pray."