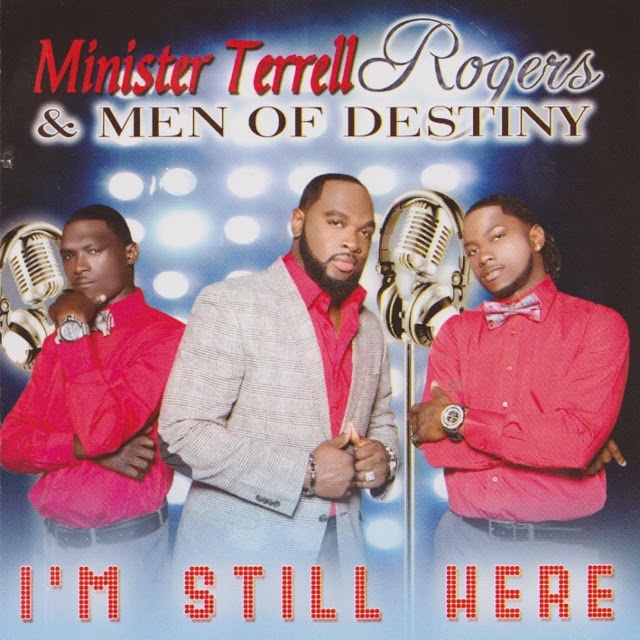 Minister Terrell Rogers & Men of Destiny
(released November, 2013)
Minister Terrell Rogers & Men of Destiny of Blytheville, Arkansas, are young men with old souls. This is evident by the traditional bent of the quartet's new self-produced CD, I'm Still Here.
Rogers is the quintessential quartet lead. He sings, shouts, growls, moans, ad libs, testifies, and preaches. The Men of Destiny—Jeremy Myles, Torey Leonard, and Shannon Lyons—do the high harmonies made popular by the Violinaires in the 1950's and that continue to dominate gospel quartet today (the bass guitar takes the low notes).
The album selections are standard quartet fare in that they stress old-time common sense religion, complete with movable couplets from the ancient lexicon of church and gospel music. The group counts its blessings, is grateful to still be here despite all the trials of life, and in fact "could have been dead, sleeping in my grave." They even quote Grandma. On the bluesy "He'll Never Say No," complete with a slow boogie-woogie from the bass guitar, the quartet shares how Grandma called for Jesus—a cry that is part desperation, part command, like Inez Andrews' shout on "Mary Don't You Weep."
Although there is no indication I'm Still Here is a live album, the quartet sings with an intimacy that suggests a live program, especially on "Prayer Changes Things," "He'll Never Say No," "I Need a Blessing," and "I'm Free." Faint shouts can be heard from time to time, so it may have been recorded before a live audience.
"Sweet I Know" could have been shortened, and the eight-minute plus "I'm Free" really gets started in medias res. Nothing against the keyboardists, who as musicians do a fine job, but as readers of this site know, I'm no fan of synth in gospel, and especially in the raw rootsiness of quartet, where its synthetic quality cheapens the sound. Acoustic piano or organ gives gospel more character.
Nevertheless, the concluding track, "Turn It Around," is a drive-tempo piece that features a fun interplay between Rogers and the quartet. It embodies the joy and exuberance of quartet singing.
Pick: "Turn It Around."