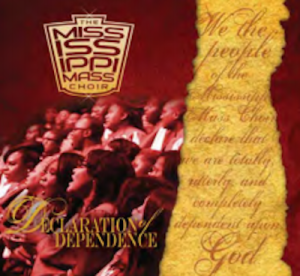 "God's On Your Side"
Mississippi Mass Choir feat. Le'Andria Johnson
From the Malaco CD Declaration of Dependence 
(release date: June 3, 2014)
Put the Mississippi Mass Choir together with Le'Andria Johnson, and you have a potent combination of old school passion. 
Opening with a Kirk Franklin-esque call and response, the choral voices rise in intensity as Johnson sings her part from creamy smooth to scorching fortissimo.  The song, written by the team of Stan Jones and Jerry Smith, encourages the congregation to hold on and be strong because God has your back. 
As "God's On Your Side" fades, Johnson makes the message more personal.  She addresses the single ladies in the audience: "Go on and get rid of your bozos so He can send you your Boaz," referencing the wealthy landowner and all-around good guy from the Bible.