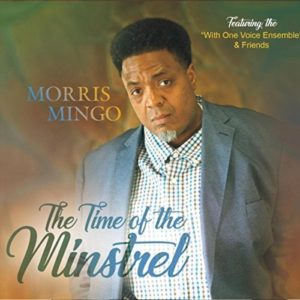 Morris Mingo featuring the
With One Voice Ensemble & Friends
The Time of the Minstrel
Moming Productions (release date: October 27, 2017)
https://store.cdbaby.com/cd/morrismingo
By Bob Marovich
The Time of the Minstrel is an independently-produced album that deserves major label attention. From the quality of its packaging and album notes to the rich mix of songs to the singers and musicians, this is an excellent project.
It doesn't always work when an artist writes all the songs for his or her project, but it does for the Ohio-based Morris Mingo, who presents many top-notch songs for soloists and choir on this project. Among these are "One More Chance," a lovely melody backed by strings and featuring a solo turn by popular gospel artist Darwin Hobbs. "You Cannot Fail" is a slow cooker with powerful vocals from Doris Stokes Knight and wonderful antiphonal interplay between choir and soloists.
Meanwhile, "The Blood," featuring Pastor Albert Cole Sr. on lead, is a full bodied contemporary gospel song with a traditional heart (and you can never go wrong with a 'blood' song). The chorus of "Come on Back" is fit for an altar call. "Oh Ye Saints" is a modern-day praise anthem that sounds like something the senior choir would render on Sunday morning.
Despite the new age-y title and melodramatic introduction about the war between God and Lucifer, there's no new age theology here—the selections on The Time of the Minstrel are grounded in Biblical teachings about God's healing power and profound mercy to His people.
The With One Voice Ensemble is dramatic and big-voiced, and the soloists are uniformly strong, with "Tinky" Black's explosive contribution to "We've Come to Lift the Savior Up" the most impressive. Throughout, Mingo sings and exhorts alongside the soloists.
Coming close to filling all 80 minutes available on a standard CD, The Time of the Minstrel offers a good deal of great music.
Five of Five Stars
Picks: "One More Chance," "You Cannot Fail."