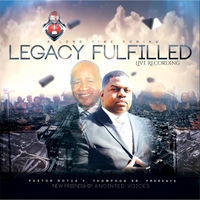 Pastor Royce F. Thompson Sr. Presents
New Friendship Anointed Voices
A Long Time Coming: Legacy Fulfilled (released December 12, 2015)
www.nfmbcofgary.org
By Bob Marovich
A Long Time Coming: Legacy Fulfilled may be the first gospel CD to recommend itself solely on the basis of its praise break alone.
Not that the other tracks on the Gary, Indiana, church's debut album aren't quality—they certainly are—but the nine minute praise break that follows Anthony Hardin's hand-clapper "Just Like You" represents the exuberant Holy Ghost experience better than any project has in a long time. The listener feels as exhausted as those who were clapping, foot patting, and dancing in the spirit must have felt at the live recording.
A keen sense of the church's roots in traditional worship permeates the project. From the hyper-drive version of Dorsey's "Highway to Heaven," a mash up of old and new school, to the concluding "Trouble In My Way," sung with zest by Betty Holmes-Lott, the New Friendship Anointed Voices keeps the spirit high and the sound grounded in gospel choir basics. Some songs, such as "There's Not a Friend" and "Only Believe," add plenty of contemporary components to satisfy today's gospel enthusiasts, but the wooden church DNA is never far from the forefront.
If anything, "Just Like You" and its praise break reprise could have been placed further toward the end of the project, because the three contemporary songs that follow it in succession get swallowed up in its wake.
Gary's beloved gospel announcer and go-to emcee Marvin Lyles introduces the project, and after prayers by whooping minister Pastor Charles L. Emery and an intro by Rev. Rita Preston-Thomas (the echo coupled to her pronouncements seems unnecessary), the choir takes it.  And take it they do, with a relentless verve.
The Anointed Voices of New Friendship Missionary Baptist Church of Gary, Indiana, under the superb direction of music minister Antionette Gaines, certainly fulfilled the founder's mission of making a record. A long time coming, perhaps, but worth the wait.
Four of Five Stars
Picks: "Highway to Heaven," "Just Like You," "Trouble In My Way."