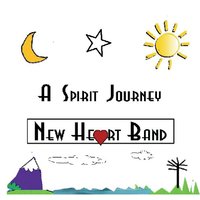 New Heart Band
A Spirit Journey
First Love Publishing (2017)
www.newheartband.com

By Bob Marovich
A Spirit Journey, the independently-produced album by the New Heart Band, evokes the folk music I used to listen to on the Ozarks-based radio program Sing Out! It contains confident, laidback string band interpretations of Christian themes. The style is sometimes referred to as country gospel, a style that goes back, at least commercially, to the earliest recordings of the Carter Family.
Hailing from the State of Washington, the New Heart Band consists of singer-songwriters Gregg and Elaine Christenson, producer and multi-instrumentalist Gary Ballard, singer Tina Jones, and fiddler Paul Elliott. Gregg handles almost all of the lead vocals, his craggy voice frequently in two-part harmony with Elaine or Tina.  The ladies posses a basic tone, a case of substance over style. All together, they eschew ornamentation in favor of articulating the lyrics so not one consonant is muddled or one message is missed.
Musicians Ballard and Elliott offer especially handsome accompaniment on "Carbon River." This ode to the Pacific Northwest river located near the band's environs is about the literal and metaphorical life-giving power of water. Solos by the acoustic guitar, mandolin, banjo, and fiddle are only outdone by the expert harmonic ensemble work.
The New Heart Band is rooted in the old-timey string band sound of the Stanley Brothers (without the high and lonesome harmonies) but the singers' use of the word Yeshua goes back even further, e.g., it is the Hebrew name for Jesus.  Traditional with a capital T.
The songs are humble and the melodies as fundamental as the simply-drawn album cover. The program is easy as Sunday morning, though it would have been fun to hear the band break loose on a gospel barnburner or two. Nevertheless, A Spirit Journey will appeal to fans of string band music and old-time country gospel songs.
Three of Five Stars
Pick: "Carbon River"