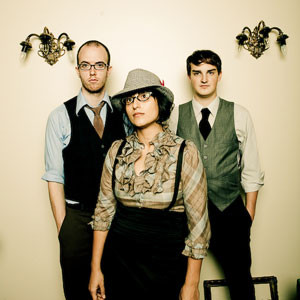 Page CXVI
The Church Calendar Series:
– Advent to Christmas
– Lent to Maundy Thursday
– Good Friday to Easter (new release)
www.pagecxvi.com
By Bob Marovich
I discovered the intriguing music of Page CXVI via an email from Noisetrade about Good Friday to Easter, the trio's latest and final release in their Church Calendar Series.
There they were—husband-and-wife team Reid and Latifah Phillips and Dann Stockton—rendering church hymns with humble melodies and a pop underlay of gently jangling guitars, emotional violin, and contemplative keys.  The group could just as easily direct a meditation service as make a college radio playlist.
It turns out that the Church Calendar Series was stimulated in part by the Phillips' experience as worship leaders. They resolved to update church hymns so they are "accessible and known again," and at the same time chronicle the holy calendar from Advent to Easter.
The three-CD series is just that.  It's an ambitious project, no doubt, but it feels quite natural, due largely to the weightlessness of the music. Page CXVI's distinctive, layered sound is a combination of Latifah's beguiling vocals, which are equal parts Feist and Sarah MacLachlan; the consistency of the musicianship (think a gentler Snow Patrol or Coldplay); and the poetic lyrics of old hymns and newly-composed songs.  Sometimes the sound evokes waves rushing ashore and other times it is as delicate as a tinkling music box.
In the hands of Page CXVI, no hymn, carol, or anthem is exactly as you remember it, but it works. For example, "Silent Night," from the Advent to Christmas volume, has a distinctive arrangement but still evokes the melancholy of Franz Gruber and Joseph Mohr's nineteenth-century original.
The Lent to Maundy Thursday project features appropriately weighty, serious material, such as an astral "Were You There." It transitions to the group's latest release, the Good Friday and Easter volume, which hits a gothic peak on "Three." This track alludes to the three men hanging on the cross, the three hours on Good Friday that Jesus hung on the cross, and the 3:00 p.m. time given historically to Jesus's death. Coincidentally, it is the volume's third track. Its interpolation of "Swing Low, Sweet Chariot" only intensifies the somber mood. If the moments before death arrives had a soundtrack, "Three" is it.
From there the music gets brighter. "Roll Away the Stone" is hopeful and triumphant. Page CXVI's interpretation of the "Hallelujah Chorus" from Handel's Messiah is a joyful conclusion to the volume and series.
The Calendar Series is a fascinating listen, one that simultaneously lulls and stimulates the senses.
Picks: "Roll Away the Stone," "Three."