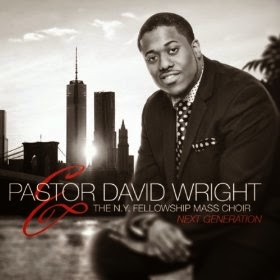 Pastor David Wright & the N.Y. Fellowship Mass Choir
Godfather Records (released February 2014)
Recorded live at Brooklyn's historic First Church of God in Christ, Pastor David Wright and the N.Y. Fellowship Mass Choir's Next Generation does more to preserve the legacy of Bishop Timothy Wright than any of their music projects to date.
Several songs on the album are in fact Timothy Wright compositions. One of the most popular, "Jesus Jesus Jesus," closes out the CD. "Come Thou Almighty King," "Presence of the Lord," and "Who's On the Lord Side" are also reprised on Next Generation.
Whether contemporizing old hymns such as "What a Friend We Have in Jesus," or stomping it out on "Praise Him"—Chrystal Rucker alternating between sweet notes and all-out squalls—the full-voiced, joyous mass choir and a team of soloists demonstrate fealty to the larger-than-life sound advocated by the late Mattie Moss Clark and the Church of God in Christ Music Department.
Soloists of note on the album besides Rucker include John P. Kee, whose lead on "You Are God Alone" makes the David Wright-penned song sound like a New Life Community Choir selection. Danielle Kelley sings the glory down on "Who's on the Lord's Side," Shawn Bigby's expansive vocals glisten on "Thank You," and Andre Byrd's almost seductive style on "How Can I Forget" elicits more than a few female shrieks from the audience.
The most engaging moments on the album belong to "We Made It Through the Storm." Declared a tribute to the survivors of Hurricane Sandy, the track includes interludes by The Seal Breakers, a shout band with roots in the United House of Prayer for All People. Shout bands are recorded so infrequently it is a joy to hear them whenever we can.
The husky, raw voice of Pastor David Wright, Bishop Timothy's son, is ever present throughout Next Generation, an album that is a rallying cry in the "Bring the Choir Back" movement.
Picks:
"Praise Him," "We Made It Through the Storm."