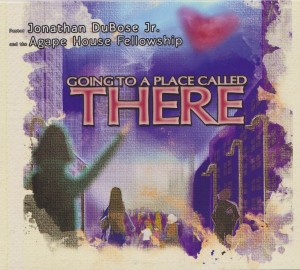 Pastor Jonathan DuBose Jr. & the Agape House Fellowship
Going to a Place Called There
JOBO Enterprizes, LLC (2014)
www.agapehousefellowship.net
By Bob Marovich
While music enthusiasts know Jonathan DuBose Jr. as an in-demand guitarist / session musician, they may not know of his life as Pastor Jonathan DuBose Jr. of Agape House Fellowship in his hometown of Bridgeport, Connecticut.
Going to a Place Called There, the title based on Ezekiel 48:35, gives some inkling of the musical soundtrack to DuBose's ministerial calling.  It is his church's live recording, conducted at West End Tabernacle on May 10, 2014.
Part worship service, part musical, and a trace of theatrical performance—what else would you expect from the eclectic DuBose—Going to a Place Called There features music, spoken word, poetry, and dance. It is somewhat of a family affair: sister Anne' DuBois contributes a poem, brother Kenneth (also a pastor) sings Walter Hawkins's "Is There Any Way," and Pierre DuBose [PD3] is drummer and programmer, and also contributes background vocals.
The music is an amalgam of energetic P&W as well as mantra-like and meditative new-agey P&W. The melodies are uncomplicated, the lyrics easy to sing. DuBose's electric guitar interjects flowery jazz riffs, wah wahs, and talking techniques throughout many of the songs. African drums and rhythms appear, and one song is sung in French and Portuguese. Douglas Charles revs up the proceedings with a straight-ahead version of the traditional evergreen, "Morning Train." The latter track must have warmed the heart of the family patriarch, Jonathan Sr., who sang with the Sensational Starlights quartet.
The album's heterogeneous mix is a reflection of DuBose's musical philosophy called C.A.U.S. (Classified As Universal Sound). He says the style was introduced on Kim Burrell's Everlasting Life album, on which he was a musician. DuBose told JGM in a 2011 interview that C.A.U.S. is "a stew of gospel, R&B, classical, jazz, hip hop, pop, Latin music, country music, all these different styles thrown into one pot, stirred up. . . ."
Although the project missed a chance to weave the Ezekiel 48:35 theme more explicitly throughout the program, there's no doubt that Going to a Place Called There is all about the C.A.U.S.
Three of Five Stars
Pick: "Morning Train."