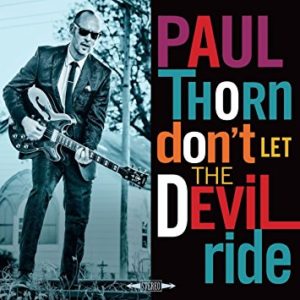 Paul Thorn
Don't Let the Devil Ride
Perpetual Obscurity Records
(release date:  March 23, 2018)
www.paulthorn.com
By Bob Marovich
Paul Thorn's Don't Let the Devil Ride hits the Americana music jackpot.
With the Blind Boys of Alabama and the McCrary Sisters as guest vocalists, the Preservation Hall Horns among the musicians, and Rick Hall's Fame and Sam Phillips' studios as well as Preservation Hall providing recording mojo, Thorn could have performed "Happy Birthday to You" and it would have sounded smothered in tangy barbeque sauce.
But Thorn taps his sacred roots (his father was a bishop in the Church of God of Prophecy, a Pentecostal denomination) as well as his abiding affection for African American gospel music, and especially Kevin Nutt's Sinner's Crossroads radio show on WFMU, to showcase gospel and spiritual staples done with profound respect for the originals. It's his first all-gospel album.
Thorn's sound is a cross between Eli "Paperboy" Reed and the early work of fellow Pentecostal singer Brother Claude Ely.  The album celebrates wooden church religion from the opening rouser, "Come On Let's Go," to the very end.
None of the songs will be unfamiliar to the gospel enthusiast, and especially to those who prefer the prewar guitar evangelist and postwar gospel quartet styles. Among the standouts is the go-to quartet song, "He's a Battle Axe." It incorporates the lyrics of  "The Lord's Alphabet," a Golden Gate Quartet selection in which Christ and his infinite abilities are described using 26 words, each starting with a different letter of the alphabet. Thorn puts a Pops Staples twang into the unabashed sacred-secular mashup that is the title track, written by O.V. Wright and done solidly by Chicago's Windy City Four. Outstanding slide guitar work propels the Blind Willie Johnson classic, "Jesus Gonna Make Up My Dyin' Bed."
Thorn and company form into a choir to deliver a slow-as-molasses version of the O'Jays' "Love Train." In the process, they unearth a soulful spirit normally buried beneath the beat. On the other hand, a sped-up version of "Soon I Will Be Done" converts the spiritual into a joyful congregational singalong, complete with handclapping.
In the liner notes, Kevin Nutt of the aforementioned and longstanding Sinner's Crossroads radio program contributes learned insight on the provenance and power of each song included in the collection.
On "Keep Holding On," Thorn sings, "I can make more money / By singing rock and roll / But I'll keep singing for Jesus / Until I don't have a suit of clothes." That's living the life you sing about, son. Thomas A. Dorsey, for one, would approve.
Don't Let the Devil Ride deserves all the attention it can muster so Paul Thorn can continue singing for Jesus without worrying about the status of his wardrobe.
Five of Five Stars
Picks: "Come On Let's Go," "Soon I Will Be Done"