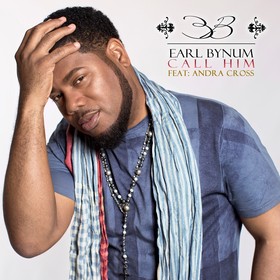 "Call Him"
Earl Bynum feat. Andra Cross
Mann-Up Muzik (2015)
www.earlbynummusic.com
Minister Earl Bynum is known throughout the gospel music industry for his award-winning work with large choirs, but make no mistake: he is also a solo singer. His 2009 Open My Heart album garnered two Stellar Award nominations: Contemporary Male Vocalist of the Year and Contemporary Choir of the Year.
Bynum does some of his most soulful singing on "Call Him," the debut single from his forthcoming solo album. During what might be described as a sacred slow jam, he encourages—nay, pleads with—the listener to call on Jesus because He answers prayer ("his phone has never been busy"). Andra (pronounced Andre) Cross supports Bynum on second voice, one as musky as Bynum's is meaty. The two make a fine duo.
Bynum last appeared on JGM in 2013 as leader of the live album featuring the Mount Unity Choir of Mt. Lebanon Baptist Church. Its worship songs and a compelling testimonial by Cora Armstrong helped earn the choir a Stellar Award in 2014.