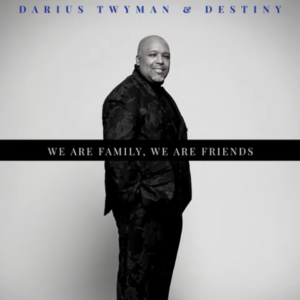 "We Are Family, We Are Friends"
Darius Twyman & Destiny
Character Music LLC
(release date: February 21, 2020)
By Bob Marovich
Detroit singer, songwriter, and choir leader Darius Twyman teams up with his longstanding choir, Destiny, for a song with a dual purpose: to encourage global unity and to offer much-needed words of comfort and hope to the discouraged everywhere.
Lush choir harmonies and Twyman's impassioned vocals evoke the work of the Reverend Donald Vails, whose Voices of Deliverance was where a preteen Twyman cut his vocal teeth. The song is smooth, inspirational, and steeped in the Motor City's polished gospel choir sound.
Twyman formed Destiny in 1995 and the group's debut album, Fulfilling My Destiny, was released in 1998 by the Inner Court Music Group. He also co-founded the Abundant Life Fellowship Chorale with the Reverend Oscar A. Hayes.