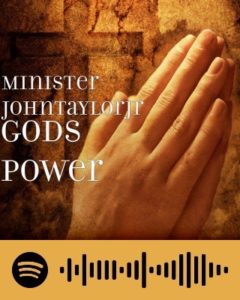 "God's Power"
Minister John Taylor Jr.
John Jr. Gospel Productions, Inc.
By Bob Marovich
Minister John Taylor Jr. recorded this song in 2016, but it sounds as if it was recorded 50 years earlier.
"God's Power" is a reassurance to all those who are sick, especially Taylor's mother, whose illness inspired Taylor to write the song. The sweet country melody comes from the southern gospel tradition, but Taylor's expressive vocals and the background singers have gospel quartet stamped all over them.
Born in Peoria, Illinois, adopted through Catholic Charities, and raised in Jackson, Mississippi, Taylor is the founder of John Jr. Gospel Ministries.
This deliciously lo-fi, no-frills track, along with Taylor's "I Can Do All Things through Christ," appear on the 2020 Ruffboyzmusic Group/Overboard Records sampler The Quartet Power Drive.