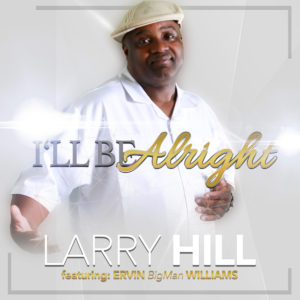 "I'll Be Alright"
Larry Hill feat. Ervin "Bigman" Williams
RonKay Music Group (release date: May 1, 2019)
www.ronkaymusic.com
By Bob Marovich
Though "I'll Be Alright" is ostensibly a solo outing for Philadelphia gospel singer Larry Hill, it thrums with the sound of good old fashioned southern soul quartet.
One reason is the presence of quartet guitar wizard Ervin "Bigman" Williams, who offers up a quick, whimsical lick for an intro and proceeds to weave guitar riffs in and out of the singing and chugging rhythm section. Then there's the background harmonies and the shouting vamp that goes on for a deliciously long while. Finally, the message about holding onto one's faith is without form or fashion—just straight outta church.
The single is on husband-and-wife team Ron and Karen Clark's RonKay Music Group.