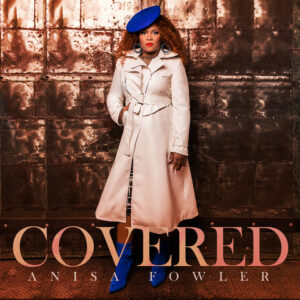 "Covered"
Anisa Fowler
RNU Records (release date: November 12, 2021)
www.anisafowler.com
By Robert M. Marovich
"Covered" identifies Long Island's Anisa Fowler as an emerging gospel singer-songwriter of note.
The melodic ballad, which Fowler co-wrote with Joshua Arnoux, reckons with the anxiety of the times by reminding listeners that no matter how close they are to giving up, Jesus is the remedy.
The lyrics follow Kenneth Morris' formula of presenting a problem in the first half of the verse and offering a solution in the second half (I call it the Kenneth Morris "But"). The shift from problem to solution is reinforced by a change in time signature from 4/4 to 3/4.
Fowler moves toward the dramatic concluding top notes with a moment of evangelizing in the buildup. If the background vocalists aren't a full choir, they certainly sound like one.
And what about the gorgeous blue hat and boots Fowler's wearing on the single cover!
Anisa Fowler is a worship leader at Christ Pentecostal Temple, Inc. and Mt. Moriah AME Church in Jamaica, NY.