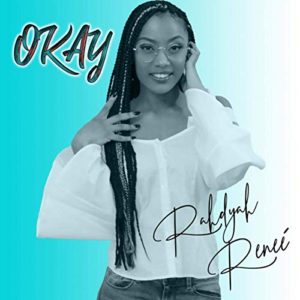 "Okay"
Rahdyah Renee'
Mike2Mike Music (release date: October 29, 2019)
www.rahdyahrenee.com
By Bob Marovich
"Okay," the debut single by Philadelphia-born vocalist Rahdyah Renee', latches onto your subconscious in the first few bars and doesn't let go until you sit up and take notice.
It's a well-crafted, and well-sung, sacred pop song that reassures listeners life will get better, no matter how bad it seems. God has your back. Michael R. Stokes and Johana McCoy are the writers on "Okay."
A background vocalist for Jekalyn Carr, Rahdyah has also performed with the Voices of Zamar gospel group. Her sound is evocative of Christian singer Jamie Grace. Like Grace, Rahdyah possesses the voice and energy befitting an emerging gospel star.