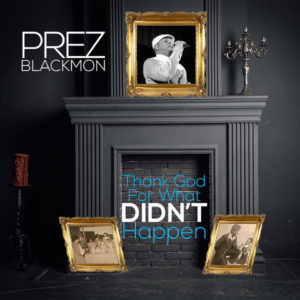 "Thank God for What Didn't Happen"
Prez Blackmon
Pearl's Son Music (release date: January 1, 2021)
By Robert M. Marovich
The title alone is a testament to the times.
But for God, Blackmon sings in his elastic tenor, it could have been me, it could have been worse, it could have been tragic.
It's a statement Blackmon heard his pastor, Bishop Noel Jones of the City of Refuge L.A., say many times. This past year's worrisome mix of physical and social trials, however, really put it in focus for the singer.
Blackmon sets his message of gratitude to an appropriately churchy beat. The background vocalists, serving as the congregation, shout their assent to Blackmon's declamations. There but for the grace of God…