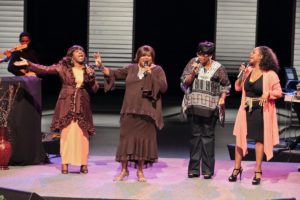 "Someday"
Shirley Murdock feat. Beverly Crawford, Kelly Price and Regina Belle
From Live: The Journey
(initial release date: 2011; re-released as single: 2020)
www.tyscot.com
By Bob Marovich
Back in 2011, when "Someday" was initially released as part of Shirley Murdock's Tyscot album Live: The Journey, this is what I had to say:
"Someday" features les quatre femmes – Murdock, Beverly Crawford, Kelly Price and Regina Belle – seeking world cooperation during these days of social ills. The four harmonizing on stage together provides enough energy to run a small town for one day, and suggests they take their gospel show on the road as the female variation of the famed "Three Tenors."
Well, here we are, nine years later, and the social ills seem even more ill-er.
In the spirit of many gospel artists reissuing songs of social significance, Shirley Murdock pulls out "Someday" to rekindle the hope that there will be a stop to the violence and the hate….someday. We'll walk hand in hand. And we'll be glad about it.