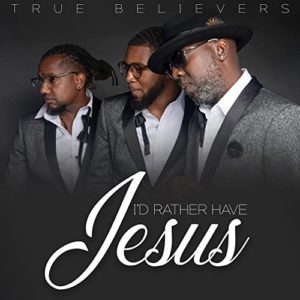 "I'd Rather Have Jesus"
True Believers
Malaco Music Group / 4 Winds (release date: June 23, 2021)
www.malaco.com
By Robert M. Marovich
From the opening vocal harmony riff and the incessant piano triplets to the ultra-soulful lead vocals by Castro Coleman, "I'd Rather Have Jesus" sounds like a 1960s soul record but it is as new as a minute ago.
Lyrically, the song by the True Believers quartet evokes the 1922 hymn with the same title, about forsaking the riches of the world for the wealth of eternity. The twist is that Coleman references the modern era when he describes the temptation to become a pop star. For that, he would receive "anything known to man." In reality, Coleman has embraced the blues as Mr. Sipp, but at the same time he acknowledges that, as in Mark 8:36, "what doth it profit a man to gain the whole world and lose his soul?" He's figured out the balance.
A contender for JGM's Best of 2021 singles.