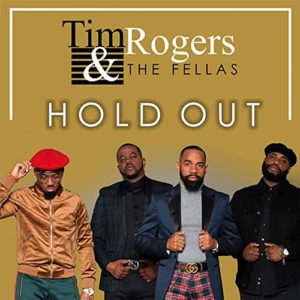 "Hold Out"
Tim Rogers and the Fellas feat. Calvin Richardson
SAG Music Group (release date: April 26, 2019)
By Bob Marovich
As they make plain on their new single, "Hold Out," Tim Rogers and the Fellows work hard to keep the traditional quartet vibe alive.
The single is forged in the crucible of wooden-church worship with enough contemporary accouterments to appeal to today's radio listeners. Indeed, Rogers expects the song to hit the airwaves because he calls out to "those of you in radio land and are listening to my voice" to turn the volume up.
Gospel singer turned R&B star Calvin Richardson joins the club to sing his personal experiences with how God helped him navigate the heavy burdens and the rough times. Just like the church atmosphere they are trying to recreate, Rogers and Richardson pepper their testimonies with exclamations of "Lord have mercy!" and "Good God!" as they shout about how Jesus is the one who helps them to hold out.