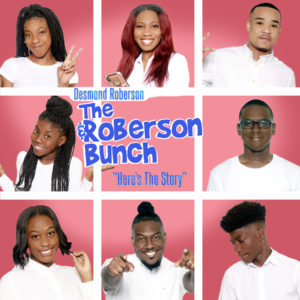 "A Charge"
Desmond Roberson & the Roberson Bunch
From the 3 Sonz Records Here's the Story
(release date: May 22, 2020)
By Bob Marovich
Don't let the amusing Brady Bunch-like cover fool you. There's some serious singing on "A Charge," from Desmond Roberson & the Roberson Bunch.
It is an exhilarating Pentecostal-meets-quartet take on the hymn "A Charge to Keep I Have," arranged by husband-and-wife team Desmond and Tammy Roberson.
The piece, which serves as the finale of a live recording by the family band from Valdosta, Georgia, allows the congregation a chance to get their last long praise on. Desmond leads with a battery of gut-wrenching shouts and squalls as the family chants in lock-step precision. The rhythm section drives an incessant beat. Raw and righteous.