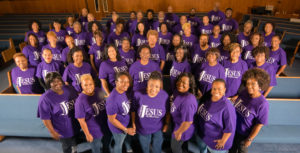 "It's All About You"
Rev. Stef & Jubilation
(independent, 2019)
https://store.cdbaby.com/Artist/RevStefandJubilation
By Bob Marovich
The Reverend Dr. Stefanie Minatee, aka Rev. Stef, is back doing what she loves—directing Jubilation, the gospel choir that, among other achievements, backed Queen Latifah on the title track of the GRAMMY Award-winning various artists gospel compilation, Oh Happy Day (EMI, 2009).
After recovering from an April 2015 stroke that severely impacted her mobility, Rev. Stef is now preparing the choir for a 20th anniversary performance in June at the New Jersey Performing Arts Center.  It was there that the ensemble formed initially to accompany Evangelist Shirley Caesar.
Meanwhile, the choir has released a single, "It's All About You." The song has that shoulder-swinging and finger-popping cool evocative of the Sounds of Blackness. Rev. Stef calls the lyrics about discipleship, and Jubilation responds with round, robust harmonies.
By the end, Rev. Stef declares: "No matter what I'm going through, no matter the pain, it's all about you. I'm gonna serve you." It sounds like a prayer she uttered many times between April 2015 and today, but now it's uttered as a pronouncement of gratitude for victory.