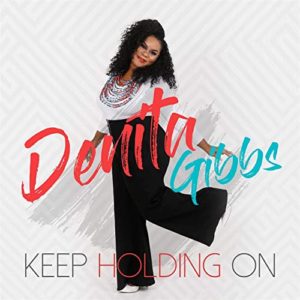 "Keep Holding On"
Denita Gibbs
Intersound / distributed by IndieBlu Music
(release date: October 19, 2018)
www.denitagibbs.com
By Bob Marovich
Denita Gibbs of Birmingham, Alabama, entered the national consciousness in 2013 with her five-star sophomore release, Without You.
She's back with "Keep Holding On," a finger-popping single distinguished by a husky chromatic riff on electric guitar. In a confident, convincing, pop-inflected voice, Gibbs instructs that God will see you through the dark times. Though the single is more than a year old, Gibbs still promotes it in her appearances.
A member of the Pentecostal Assemblies of the World, Inc., a denomination that introduced the gospel music world to Bishop Charles Watkins, among others, Gibbs attends Nashville's Greater Christ Temple Apostolic Church, under the pastoral leadership of Bishop Sherman Merritt.