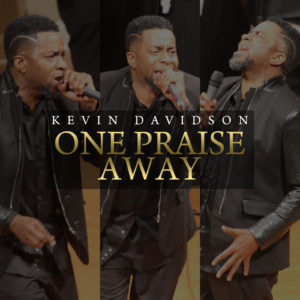 "One Praise Away"
Kevin Davidson
Infinity Music Group (release date: March 1, 2019)
By Bob Marovich
"One Praise Away" is a spirit-filled Sunday morning song, a call-and-response declamation of victory between the Memphis-based Kevin Davidson, Cheryl Rogers, and the Voices, their choral harmonies full-throated and thunderous.
The organ chirps, the drums and bass set a solid rhythm section, and the handclapping ensues. It evokes the work of fellow Memphian, the late O'Landa Draper, as well as Ricky Dillard & New G.
Kevin Davidson and the Voices (formerly the Voices of Binghamton) recorded a number of albums for New Haven Records during the 1990s and 2000s. Post-New Haven, Davidson released the 2014 album, Something Happens, featuring the UCICC Fellowship Choir.