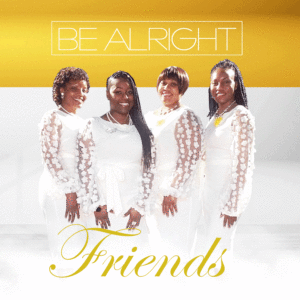 "Be Alright"
Friends aka Anointed Friends
Thompson Records (release date: March 15, 2021)
By Robert M. Marovich
In "Be Alright," the female quartet Friends (aka Anointed Friends) deliver a simple song of reassurance and encouragement to a driving countrified beat.
The ladies pepper their lyrics with familiar church aphorisms (e.g., "He may not come when you want him but He'll be on time") and tag on an old-fashioned vamp designed to rouse anyone not already out of their seats.
It all sounds straight out of the South, but the quartet actually hails from the New York City metropolitan area. Organized in 2019, Friends is made up of Tiffani Songbird McCutchen, Tyeshia Hilbert, Brittany Dawson, and Roz Thompson. Excellent singers with plenty of spirit.