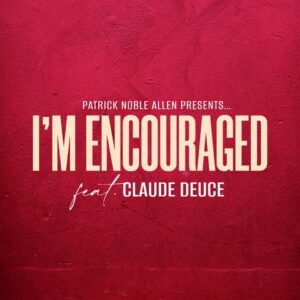 "I'm Encouraged"
Patrick Noble Allen presents Claude Deuce
Embrace Your Texture Enterprises (release date: February 24, 2022)
www.ClaudeDeuce.com
By Robert M. Marovich
Written last year by Claude Deuce, who is also the featured vocalist, "I'm Encouraged," presented by music industry veteran Patrick Noble Allen, is a gospel power ballad about holding onto blind faith, no matter the size of the tribulation.
Motivated, no doubt, by a combination of societal and personal tempests, "I'm Encouraged" contemporizes the axiom that trouble doesn't last always: "Made it through that / make it through this / It won't always be this way." The song gets its message across in less than three minutes.
Many will know Deuce, born Claude L. Harris Jr., for his songwriting contributions to Shirley Murdock ("Winner in Me"), Deitrick Haddon ("The Word"), and Christina Bell ("Bow Down"). He was also the solo voice on Pure-N-Heart's "Say It." In 2009, JGM gave Deuce's solo album, Claude Deuce, The Young Elder, five stars. It's clear from this single that he still possesses the voice and the songwriting chops to match.