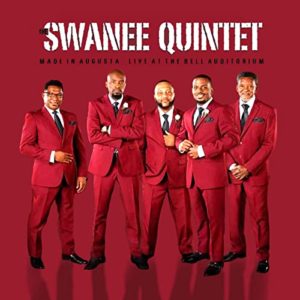 "Dr. Jesus"
The Swanee Quintet
From the Ruff Boyz Music Group LLC / Overboard Records CD
Made in Augusta: Live at the Bell Auditorium
(release date: June 20, 2020)
By Robert M. Marovich
"Dr. Jesus" is a Swanee Quintet perennial, a song they cannot eliminate from their repertory no matter how many years they are on the road or how many radio singles they accumulate. Nor should they: it's a surefire way to lift congregations from their seats and start them to clapping and waving their hands.
The Augusta, Georgia, quartet's most recent recording of "Dr. Jesus" comes from a live disc they cut during a program at their hometown's Bell Auditorium. The more-than-eight-minute workout packs a more powerful punch than previous recordings of the standard, including the original from the 1970s, which unfortunately is hampered by a reedy synth. Here the musicianship is far more muscular, and the lead vocal interplay raises the temperature of this paean to the power of Jesus as the Ultimate Healer.
In 2003, the city of Augusta honored the Swanee Quintet by naming a street after them. Members Eddie Bynes and Johnny Mims, who were present for that event, are the threads tying the new iteration to its historical roots.