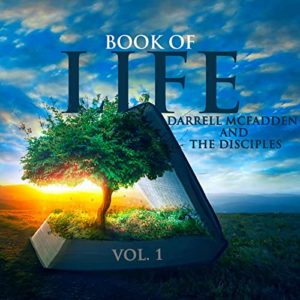 "He's Here"
Darrell McFadden & the Disciples
From the RuffBoyz Music Group LLC / Overboard Records CD
Book of Life, Vol. 1 (release date: May 29, 2020)
By Robert M. Marovich
COVID-19 doesn't seem to be stopping Ruff Boyz Music Group and Overboard Records. The partnership is minting some outstanding traditional gospel.
In addition to last week's feature by the Swanee Quintet, the partnership has produced Darrell McFadden & the Disciples' album Book of Life, Vol. 1, and the single, "He's Here."
This drive-tempo selection, which features call-and-response between McFadden and the group and, later, McFadden and a second lead, celebrates the goodness of the Lord because "he's been with me / every step of the way."
To press his point, McFadden preaches a mini-testimony on how the Lord has helped him. From its opening through the compulsory vamp, "He's Here" features traditional gospel with a muscular modern accompaniment.
Known by their fans as DMD, Darrell McFadden & the Disciples hail from Brooklyn. The quartet was formed around 1991, so their 30th anniversary is just around the bend.