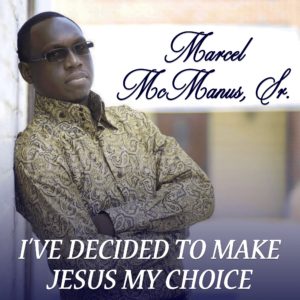 "I've Decided to Make Jesus My Choice"
Marcel McManus Sr.
Independent (release date: September 4, 2018)
By Bob Marovich
Sometimes you just need to hear gospel done the old fashioned way, like they used to do in church: solo voice and piano.
A young man with an old soul, Marcel McManus Sr. accompanies himself on piano on a cover of Harrison Johnson's testimonial, "I've Decided to Make Jesus My Choice." The singer takes what was originally arranged for choir and turns it into a solo spotlight, offering up a host of vocal flowers and frills while staying true to the original melody. It is an ear-catcher in its simplicity.
McManus is a product of Toombs County, Georgia, between Macon and Savannah. He lives in Lyons, Georgia, just up the road from Santa Claus, "The City that Loves Children." The single is produced by Luther Wardlaw of the Wardlaw Brothers quartet.