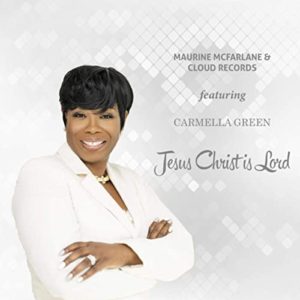 "Jesus Christ is Lord"
Carmella Green
Cloud Records (release date: December 18, 2020)
www.cloudrecordsllc.com
By Robert M. Marovich
"Jesus Christ is Lord" by Carmella Green is another outstanding sacred single from Cloud Records, an emerging label with a small but mighty roster of accomplished vocalists.
Despite being a soprano, Carmella Green delivers this song in a deep, dramatic voice, like a trained senior choir soloist. She does toss in a few vocal flowers, mostly at the end, but in general, she sings the worship opus in an operatic style.
With its text drawn from Philippians 2:10-11 ("every knee shall bow, every tongue confess"), the song, written by Cloud CEO Maurine McFarlane and musician/orchestrator Austin Woodlin, is a big number with classical orchestration, its minor key bestowing additional gravitas. This is the kind of serious music you sit up straight to listen to.
From Philadelphia, Green received her bachelor's degree in vocal performance from Temple University in 1991 and music education in 1993. She directed the Philadelphia Citywide Revival Mass Choir and worked for many years in the music department of Triumph Baptist Church.