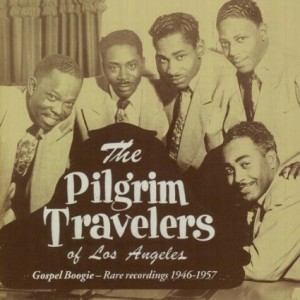 Pilgrim Travelers
Gospel Boogie – Rare Recordings 1946-1957
Gospel Friend (release date: December 18, 2015)
www.gospelfriend.com
By Bob Marovich
Per Notini of Gospel Friend has developed a handsome catalog of well-produced collections of classic gospel music that covers quartet, choir, and piano-led groups alike. His latest production, Gospel Boogie – Rare Recordings 1946-57, spotlights one of the top hit makers during gospel's golden age: the Pilgrim Travelers.
What is most striking about this 27-selection retrospective is how it aurally captures the California quartet as it altered its sound to keep up with the musical times, but without diluting one ounce of quality. A musical chameleon, the group started by emulating the a cappella rhythmic harmonies of the Golden Gate Quartet. When gospel quartets began adding musicians to compete with the piano and organ-based groups, the Pilgrim Travelers followed suit. The piano-led "Grow Closer" even captures something of the demonstrative ensemble sound of the Alex Bradford Singers.
Later, when vocal harmony groups were the rage, the Pilgrim Travelers incorporated the snappiness of doowop into their singing (listen to "Come Home," a modern reworking of "Softly and Tenderly"). As "The Travelers," the group joined Sam Cooke's tour and lent their stylish harmonies to a few secular sides, featuring the expansive vocals of future soul star Lou Rawls. But as Notini explains in the illustrated album notes, the group's career was interrupted in 1958 when members of the quartet were involved in a tragic car wreck that killed the driver and put Rawls in a coma.  Cooke survived.  Physically and emotionally exhausted, the group disbanded.
But along the way, the Pilgrim Travelers cut many wonderful records, and more than a few are gathered on this collection. What makes the records splendid is the passion of the group's lead singers, notably Kylo Turner, J.W. Alexander, and Rawls. Most beautiful among the selections are the a cappella, and almost a cappella, renditions of "Amazing Grace" (aka Roberta Martin's arrangement "God's Amazing Grace") and "Motherless Child." Sam Cooke can be heard harmonizing with the group on the latter, though Alexander's crystal clear falsetto makes the track most compelling. The 1953 recording of "Silent Night" is most suitable for the season.
Gospel Boogie doesn't aim to simply reprise work already anthologized by Specialty/Fantasy, but focuses more time on the group's lesser known sides for Big Town and Andex. Lesser sides in terms of distribution and sales, perhaps, but certainly not in quality. This collection makes it apparent why the Pilgrim Travelers were, for years, more popular than just about any professional quartet on the gospel highway, including the Soul Stirrers.
Five of Five Stars
Picks: "Amazing Grace," "Come Home," "Motherless Child."