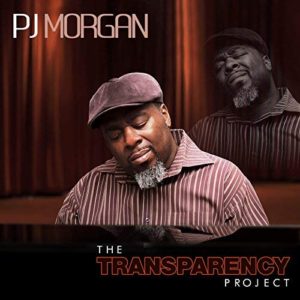 PJ Morgan
The Transparency Project
1DMV Music Group (release date: June 1, 2018)
By Bob Marovich
The Transparency Project is the debut instrumental jazz album from Stellar Award-nominated producer and keyboardist Paul Lawrence Morgan, aka PJ Morgan, who Ben Tankard had named as his music director and is currently band director for the Washington Metro area megachurch, Reid Temple AME.
The CD's first two tracks, "Closer" and "Hit the Floor," are conventional smooth jazz pieces most notable for Morgan's nimble keyboard work. After these cuts, the album moves into a more explicitly sacred mood, featuring newly-composed songs with vocals (most of them composed by Morgan) and instrumental takes on classic gospel hymns.
The songs featuring vocalists maintain the smooth jazz foundation Morgan establishes at the beginning of the CD. Several, in fact, are essentially jazz workouts with the vocalist as one of the instruments of improvisation. Antonio Mclendon does some remarkable singing on "How," a lovely string-laden ballad that is the album's highlight. The song expresses wonderment that a perfect and supreme God could care for "someone like me, with all my faults and failures." Mclendon is so overcome with emotion midway through a melismatic run that he stops to regain his composure.
Jeremiah Hicks renders "Gone, "an elegiac piece filled with metaphors about a loved one "gone too soon." John Stoddart emotes well on "All Out of Tears," a rumination about unanswered prayers. Morgan's wife Nicole contributes "Choose Love." This story song is somewhat thematically in line with "How," but it employs vignettes about an unwed mother experiencing church hurt and a beggar's reason for soliciting to remind listeners that everyone deserves love.
Morgan moves from piano to organ for instrumentals of traditional hymns like "What a Friend" (aka "What a Friend We Have in Jesus") and Kenneth Morris's "Yes God is Real."  Though the songs showcase his well-known keyboard skills, some minimal backing percussion would have made the tracks even stronger.
Organ selections notwithstanding, it's PJ Morgan's rich, textured piano that makes The Transparency Project truly work.
Four of Five Stars
Picks: "How," "Gone."