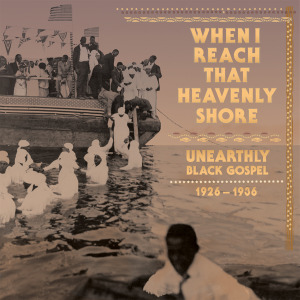 Various Artists
When I Reach That Heavenly Shore:
Unearthly Black Gospel 1926-1936
Tompkins Square (released December 9, 2014)
www.tompkinssquare.com
By Bob Marovich
Tompkins Square continues its stretch of quality black sacred music reissues with the three-CD When I Reach That Heavenly Shore: Unearthly Black Gospel 1926-1936.
Using 1926 as a starting point is not a random decision. That year saw the release of debut recordings by two seminal artists: Church of God in Christ powerhouse Arizona Dranes (who has already received a handsome Tompkins Square retrospective) and Baptist minister Rev. J. M. Gates of Atlanta, who became a bestselling recording preacher. One can literally trace a shift in the sound of recorded black sacred music from restrained to exuberant after the release of their discs.
By 1936, the collection's cutoff point, Thomas A. Dorsey and his associates were still trying to gain a solid foothold for their new gospel music in the African American church.  While they had scored important successes by 1936, still only two gospel song publishers were active in Chicago. Thus, what the collection provides is an example of black sacred folk music recording A.D. (After Dranes) and B.D. (Before Dorsey).
Although When I Reach That Heavenly Shore is vital for the rare discs it makes commercially available on compact disc, most fascinating is how many selections incorporate a folk/country vibe. Yes, Virginia, the musical color lines were blurred even in the early twentieth century, especially for southern African Americans who couldn't help but be exposed to country sounds, whether on that newfangled box called radio or from musicians working around the area. Hence, you hear country banjo on McCollum's Sanctified Singers cuts and Cajun-style accordion on the Jubilee Gospel Team's selections.  Even though both artists were recorded in the North (Chicago and Long Island, respectively), the groups demonstrated distinct folk/country influences.
The original 78 rpm discs that comprise this set come from the collection of the album's producer, Grammy Award-winning Chris King.  This includes the entire recorded repertory of the Primitive Baptist Church of North Carolina, whose cuts sound like field recordings.  "Father I Stretch My Hands Up to Thee" is a long meter hymn that the pastor and congregation "line out."
In addition to offering lesser known groups such as the Primitive Baptist Church and the Jubilee Gospel Team, the set provides aural examples of popular guitar evangelists such as Blind Joe Taggart and Edward Clayborn. The enigmatic Washington Phillips makes an appearance, as does Rev. D. C. Rice, at that point a minister in the Church of the Living God. The aforementioned Rev. J. M. Gates delivers fire and brimstone and the Fa So La Singers demonstrate shape note singing.  The singing of Rev. A. W. Nix gives some indication of what inspired Thomas Dorsey, who heard Nix at the National Baptist Convention in 1921, to write his first sacred song.
Although the original discs were used for the reissue, King's reproduction work is superb. The album notes link each selection with a Scriptural passage straight from King's father's 1939 King James Version of the Bible.
Tompkins Square announced that a three-LP version of the set will be released on Record Store Day in April, 2015. From 78 to CD to LP.  The circle is unbroken.
Five of Five Stars