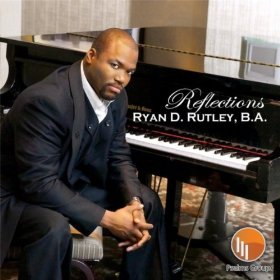 Ryan D. Rutley, B.A.
Reflections
Psalms Group (2014)
www.cdbaby.com/Artist/RyanDRutleyBA
By Bob Marovich
Ryan Rutley's Reflections is an album of mostly instrumental smooth jazz, or call it inspirational jazz, if you prefer. Rutley's band consists of Charles "Chuck" Clark on drums, brother Darick on bass, Darryl Bebee on saxophone, and Levi Baker also on drums. Ryan Rutley wrote the compositions, lends lead vocals on "Forgiven," and produced the album.
Brother Darick's handsome vocal and Bebee's effervescent sax solo on "Your Grace is Amazing" make the selection the high point of the album. The song riffs on the lyric of "Amazing Grace," but that's where the comparison ends. It is more contemporary gospel than jazz, though some would argue that such a distinction is like teasing yellow out of brown.  Nevertheless, the album would have been even better had there been more songs like "Your Grace is Amazing" on it.
While "Your Grace Is Amazing" and "Everyday" are the album's most appealing, the piano-led "Healing" is the prettiest and most distinctive instrumental melody. The remainder of the instrumental songs are nicely done, but conventional, though smooth jazz and inspirational jazz aficionados will appreciate the relaxed tone of the album.
Born in Pontiac, Michigan, Ryan Rutley is a Wayne State University grad who performed with the Wayne State University Gospel Choir and Connection, a family gospel group. He assisted his minister father with the Berea Family Tabernacle of Faith Church for many years and is now a member of Christian Tabernacle Church, where the pastor is Dr. James L. Morman.  Reflections was released on Rutley's own label, Psalms Group.
Three of Five Stars
Pick: "Your Grace is Amazing."