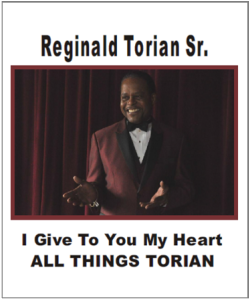 Reginald Torian Sr.
All Things Torian
R.T.M. Records (2015)
www.reginaldtoriansr.com
By Bob Marovich
As a member of the Impressions, Reginald Torian Sr. inherited a repertory that included love songs, dance tunes, and formidable classics of inspiration and cultural empowerment.
His solo sampler CD, All Things Torian, replicates this same thematic mix, albeit with a far more explicit focus on the role of religious faith in one's life than ever the Impressions presented.
We learn from Aaron Cohen's fine album notes that Torian first lent his sweet, gentle falsetto to the Enchanters vocal group before joining Fred Cash and Sam Gooden in the Impressions in 1972 as replacement for Curtis Mayfield. Torian performed and recorded with the Impressions for the remainder of the 1970s, and became an ordained minister in the Seventh Day Adventist church. A star turn playing Mayfield in a 2013 Black Ensemble Theater musical tribute to the legendary singer-songwriter earned Torian an award from the African American Arts Alliance of Chicago. It also inspired him to present a January 2015 retrospective concert called All Things Mayfield, which sold out.
Designed as a follow-up to the successful Mayfield tribute, All Things Torian is a highly personal song compilation, most of which Torian composed, though he also covers popular 1960s hits such as Sam Cooke's "A Change is Gonna Come" and the Impressions' "Gypsy Woman." A majority of the cuts are either faith-based in nature or social commentaries. They draw musically from the uncomplicated majesty of 1960s Chicago soul, complete with occasional flourishes of brass and one mean saxophonist. The overlay of heavier bass and waves of synthesizer updates the '60s sound but doesn't improve it.
While Torian favors selections such as the prayerful "Serve Thee" and the confessional "Daddie Loves," about a father who has turned his life around and is learning to love his newborn baby boy, the most striking selection on the album is 'Tricycles." It muses on the melancholy life of a fatherless child whose one real hoped-for gift at Christmas—his father—isn't present. His mother tries hard to be both parents, but the lack of a father figure is manifested in the child's social behavior, largely misunderstood by those around him.  "Tricycles" doesn't pretend to offer a solution as much as ask society for empathy.
Throughout All Things Torian, Reginald Torian Sr. sings in such a delicate, fragrant tenor that one can easily understand why he is adept at channeling Curtis Mayfield.
Three of Five Stars
Pick: "Tricycles," "Daddie Loves"