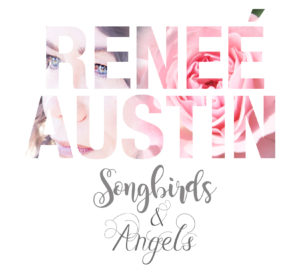 Renee' Austin
Songbirds & Angels
(Release Date: April 7, 2018)
www.reneeaustin.org
By Bob Marovich
In 2005, blue-eyed blues and soul songstress Renee' Austin was a rising star in the music business.
She had signed a record deal with Blind Big Records, shared the stage with top charting artists, and was featured in a PBS special called Blues Divas, hosted by Morgan Freeman.
But finding a lump in her throat, Austin underwent surgery. The result left her with a paralyzed left vocal cord and the diagnosis that she would never be able to sing again.
Heartbroken, Austin cauterized music from her life but never stopped praying for a miracle.  Lo and behold, after a while, she got her speaking voice back. Her singing voice returned, also. Ten years later, she resumed her music career.
On Songbirds & Angels, her first post-surgery CD and debut Christian album, Austin employs her gutsy blues voice to eke every emotion out of the thirteen songs she wrote for the project.
Not surprisingly, Austin has plenty of praise to express. Several album tracks, notably "Destiny," "Why Oh Why," and "My Beloved," highlight her love for God and God's love for her. "Destiny," a duet with Pastor Douglas A. Smith, illustrates God's unconditional love through sympathetic story snippets about troubled young people. On the discipleship ballad "I'm a Penny," Austin compares herself to the widow's mite—insignificant but God's penny to spend anyway he chooses.
In addition to spicing up the songs with her chesty singing, Austin interpolates audio from the African American folk church, notably samples of intense preaching, shouts, and moans, to give the project extra earthiness.
The album's finest moment appears at the end. "Aaron Blessing" is Numbers 6: 24-26 set to acoustic simplicity. Here, Austin interrupts her bluesy delivery to emote like a modern folk singer.
So after losing her voice and facing the prospect of never singing again, Renee' Austin emerges, like a butterfly, on Songbirds & Angels. Thus, when she sings that God's love is a "heart-shaped funnel," you know she's a witness.
The video below shares her miracle story.
Four of Five Stars
Picks: "Destiny," "Aaron Blessing"