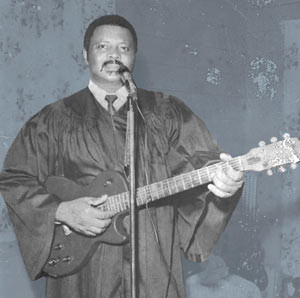 Reverend Charlie Jackson
Lord You're So Good: Live Recordings, Vol. 2
Fifty Miles of Elbow Room #6
www.50milesofelbowroom.com
By Bob Marovich
In 2003, Kevin Nutt's CaseQuarter label issued the first comprehensive collection of vintage recordings by the guitar-toting Louisianan preacher Reverend Charlie Jackson.
The CD compilation of impossibly rare 45 rpm singles produced by Robert Booker or Jackson himself showcased the fiery preacher, very possibly the last of his breed, lofting trebly licks and chugging away on his Fender Mustang.
Most of us figured that was the first and last word on Rev. Jackson, who passed away in 2006.
Not so. In 2011, Adam Lore and 50 Miles of Elbow Room (named after a 1920s performance by Rev. Ford Washington McGee) presented on quality vinyl a volume of songs gleaned from cassette tapes Jackson recorded at church services and anniversary programs. Jackson led some of the songs and in other cases served as supporting musician for guest artists.
Volume 2 hit the streets the following year, also pressed on quality vinyl and containing more samples of Jackson's vanity tapes from the 1970s and 1990s. The specific date does not matter: Jackson's playing is as consistent and recognizable on the 1990s selections as on those from the 1970s.
Two tracks on Volume 2 stand out in particular. One is the dynamic "Send It On Down," recorded at New Prospect Baptist Church in Baton Rouge, where Jackson supports a hard singing quartet that vamps like the Blind Boys of Alabama. "I've Got a Mind to Live for Jesus," a mid-1990s recording, features Jackson accompanying his wife, Laura Davis Jackson, whose voice is endearing and powerful, the result of years of experience singing for the Lord.
"Stand By Me," a starkly recorded cut featuring just Jackson and his Fender, is the only non-live performance on the seven-selection LP. Lore notes that the cut came from a repaired eight-track tape of unissued studio material.
Considering the crude way in which the original tapes were produced and the fragility of the tapes themselves, Lord You've Been Good has a nice tone to it. The album notes are by Lore and Nutt, with vintage photos peppered throughout.
Volume 2 is still available via 50 Miles of Elbow Room's website. Volume 1 is sold out, but the website notes it might be released on CD in the future. Nevertheless, both volumes are essential listening for the serious deep roots gospel collector or aficionado of raw, glass-shattering electric guitar performance.
Four of Five Stars
Pick: "Send It On Down."