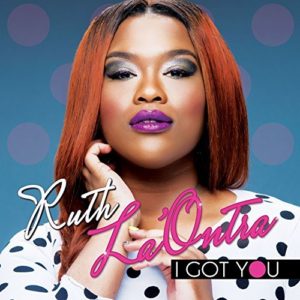 Ruth La'Ontra
I Got You
ALJR Music Group/Tyscot Records
(release date: September 22, 2017)
www.tyscot.com
By Bob Marovich
To the best of my recollection, the last time a Ruth Jones was in gospel music, she was a teenager singing with Sallie Martin. Finding it difficult to keep boy-crazy Ruth in check, Sallie returned her to her mother. Ruth later resurfaced as a solo artist, better known as the Queen of the Blues Dinah Washington.
The new Ruth Jones goes by Ruth La'Ontra. On I Got You, the live follow-up to her debut release, So Good, Ruth showcases an instantly appealing gospel voice that improvises within artistic limits, does not overmodulate, and speaks directly to the heart of listeners rather than trying to dazzle them with histrionics.
Recorded in Durham, North Carolina, I Got You has a cheery, optimistic feel from the first note to the last. It combines pop-flavored songs, most written by the Grammy-nominated and Stellar Award-winning artist and producer Anthony Brown, with a couple of golden oldies for good measure.
The oldies stand to reason; Ruth is the daughter of veteran radio announcer and North Carolina Gospel Announcers Guild president Pastor Arvetra Jones Jr.  She's the granddaughter of the late gospel singer Arvetra Jones Sr. So when she beautifully sings "Tis So Sweet," accompanied only by organ, she's carrying on the family tradition (the liner notes accidentally attribute the song to Brown and Jones, when it should have credited them for the arrangement, since the song is a nineteenth-century hymn).
Of the more contemporary work, "Come Through" stands out for its lovely melody, lush harmonies, and Ruth's reassurance that God is always on time. The title track is a snappy, pop-flavored song of gratitude to God with plenty of hooks to satisfy Millennial ears. "Kingdom," the single, is a refreshing song about service in the service of the Lord. "Reign" seems little more than a gospelized vamp on the "Hallelujah Chorus" from Handel's Messiah.
An album sleeper is Ruth's marvelous cover of the Thompson Community Singers' 1992 hit "In My Name." She echoes Kim McFarland's original solo as the background vocalists update the song without taking away one ounce of the original flavor.
I Got You is an extremely well put together debut for an artist whose blend of gospel, pop, and jazz complements a clear understanding of how to work a gospel song. Let's hope this Ruth Jones sticks around.

Five of Five Stars
Picks: "Come Through," "In My Name."