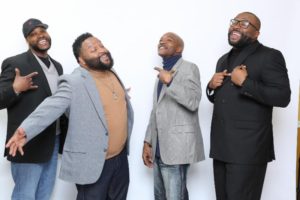 "Blessing Me"
CHurCHicago
Independent (release date: February 8, 2019)
https://store.cdbaby.com/Artist/Churchicago
By Bob Marovich
The first couple of singles by CHurCHicago left me regretfully nonplussed, but their latest, "Blessing Me," is a different story.
A drive-tempo selection fitted with a fiery vamp and feisty guitar licks, "Blessing Me" is a plea for continued blessings in spite of our fumbling and failings. Planting their petition firmly in the here and now, CHurCHicago seeks blessings while driving, "sweeping the floor," "cooking dinner," "walking through the grocery store," and even "taking the kids to school." Nor is their request selfish—they ask for blessings on the heads of everyone.
Notwithstanding their formation in Chicago on March 19, 2017, by residents Pastor Terrance Keys, John Whitehead III and Terrance Daniels, and with James Anderson as a musician, CHurCHicago has a southern soul gospel groove that could place them as easily in Mississippi or Alabama as in the Land of Lincoln.