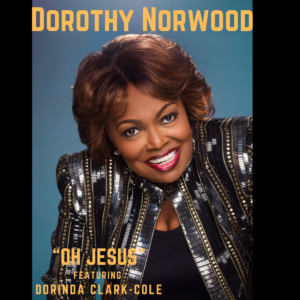 "Oh Jesus" (remix)
Dorothy Norwood feat. Dorinda Clark-Cole
Dorothy Norwood Music Group (release date: September 1, 2020)
By Bob Marovich
Leave it to gospel veteran Dorothy Norwood to destroy a church with a mantra.
From her 2014 live album The Journey Continues, Norwood evangelizes her way through V. Michael McKay's luscious worship song while a mighty choir, probably Patrick Lundy and the Ministers of Music, supports her. Featured vocalist Dorinda Clark-Cole adds additional lyrics and gospel-style moans, but Norwood sells the song.
As many artists have been doing during the pandemic, Norwood digs into her catalog for a new release. "Fasten your seat belt," the Storyteller declares, and she's right.
Word is that Norwood is finishing post-production on her 53rd solo album, slated for release later this fall.