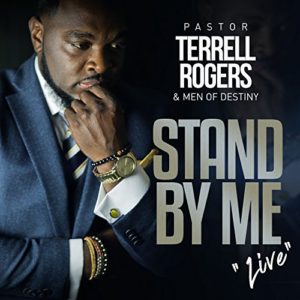 "Stand by Me"
Pastor Terrell Rogers & Men of Destiny
From the 4 Winds Records album Stand By Me "Live"
(expected release date: March 2, 2018)
www.malaco.com
By Bob Marovich
In front of God and a live audience, Pastor Terrell Rogers & Men of Destiny pray fervently for heavenly assistance on "Stand By Me."
It's a prayer Rogers utters in the darkness of anguish, in the midst of an internal storm, when friends do him wrong and, he sings, "sometimes I feel like I'm all alone."
Ah, there's that sacred conjunction, but, which good gospel songs employ to shift the tone from problem to solution.  Terrell knows that "God will catch me when I fall," so his singular plea is the title of the song: "Stand by me."
The traditional-tinged ballad is propelled by Rogers' perspiration-drenched vocals, his shouted punctuations of the main message, and steady harmonizing by Men of Destiny.
Hailing from Blytheville, Arkansas, Pastor Terrell Rogers comes from a talented family. His uncle is Tim Rogers of Tim Rogers & the Fellas (Terrell played drums for the group). His aunt, Barbara Rogers-Mitchell, was a member of God's Property with Kirk Franklin and sang with the Gospel Music Workshop of America Women of Worship.
When he is not on the road with the quartet, Pastor Terrell Rogers can be found at Prince of Peace Church in Blytheville.