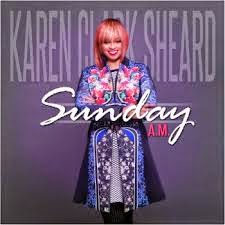 "Sunday A.M."
Karen Clark Sheard
Karew Records (2014)
I knew "Sunday A.M." had all the makings of a fine gospel single the minute I heard Karen Clark Sheard sing it at her September 2013 live recording session in Chicago.
Unlike Mary Mary's 2012 "Sunday Morning," which anticipates services with tambourine-shaking glee, "Sunday A.M." is the quiescent yearning of a world-weary soul who looks forward to Sunday worship as a time for much-needed refilling and refreshing.
The delicate choral touch of Donald Lawrence, who co-wrote the song with Rudy Currence and produced the session with Daniel Weatherspoon, is ever present. A song to keep you on the edge of your seat, ears forward and heart engaged.