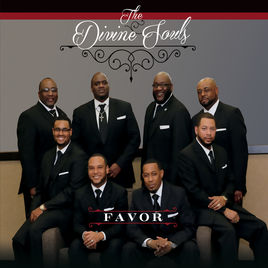 The Divine Souls
Favor
Independent (2017)
https://store.cdbaby.com/cd/thedivinesouls2
By Bob Marovich
"Out in the West Texas town of El Paso" is a gospel quartet named the Divine Souls. Their album, Favor, is a solid collection of ten songs that combine traditional lyrics and themes with modern musical accompaniment.
Most pronounced about the Divine Souls is their harmonies. When other quartets are going high above the stave with their harmonizing, a la the Violinaires, the Divine Souls go low. The result is a meatier, more traditional baritone sound. In addition, while some quartet CDs prominently feature the lead singer while the rest of the group sounds as if they are singing from the alley behind the studio, here the harmonies leap out of the speakers. Still, they do not overpower the lead vocalist. Kudos to producer Ke'Andree Jones of K Jones Productions for maintaining the proper balance.
Favor is also distinct in that three of the ten cuts are hard-charging drive-tempo songs and two of them are placed back to back. About those two: with chugging guitar work, "Running for Jesus" is a twist on the classic "I'm Not Tired Yet;" "All Things" takes its lead from the familiar church line, "Jesus can do all things but fail." Here the instrumentation is less contemporary than on the other tracks.
Other standout selections are "Have Your Way," a song with a P&W soul that becomes a congregational hymn, thanks to its quartet makeover. "Serve" is a slow and emotional southern soul gospel track about serving the Lord because he makes a way for us. The title track expounds on this favor God has placed in our lives, as does "Change," where the quartet sings about God taking them "from the poor house to a new house."
Founded in 2011—young in quartet years—the Divine Souls consist of co-founders Deacon Michael Bembo and lead guitarist Bro. Robert Trussell; and singers Pastor Brian K. Rosette, Minister Delmus Lowe, Deacon David White, and Elder Aaron Brown. Bro. Toraino Johnson is the newest singing member. Musicians in addition to Trussell and Brown (keyboards) are Elder Andy Williams (bass guitar), Elder Ned Gadson (drums), Bro. Isaiah Reyes (keyboards) and Bro. Julis Mosely (guitar).
Notwithstanding the substitution of synth for real strings and brass (I'm all about the real thing), Favor is a fine project that will please gospel quartet fans.
Four of Five Stars
Picks: "Running for Jesus," "All Things"