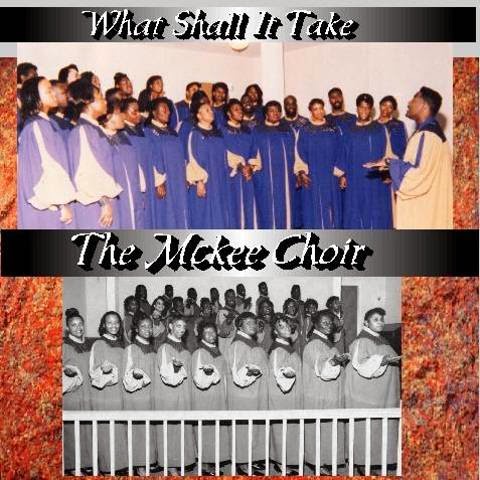 The Mckee Choir
What Shall It Take
Named for Rev. James E. Mckee, the Mckee Choir was organized several years ago by Ulannie "Link" Brewer. The choir's album, What Shall It Take, was recorded at its home church of Dunham Temple CME in Greenwood, South Carolina, where Rev. Mckee is pastor.
The album is reminiscent of the self-produced church choir recordings that proliferated in the 1970s and 1980s. The 36-member Mckee Choir is a decent group with an above average, albeit uncredited, female lead vocalist whose intense vocal especially shines on the title track and "Try Jesus."
Contemporary gospel music is the choir's sweet spot, though it does deliver an up-tempo hand-clapper with "The Lord is Blessing You." The title track is the album's finest moment. A balladic altar call, the choir and soulful lead ask, "What shall it take / How long will you continue to wait / Jesus is calling you right now."
The funky musicians add greatly to the group's contemporary flair, and while the synth player is good, the choir would sound even better without synth and '80s electric piano riffs. This particular adornment is standard in gospel these days, but when it comes right down to it, organ, acoustic piano, guitar, bass, and drums are the main ingredients for a good gospel album (although brass adds a dramatic touch). Beyond that, the music can either overwhelm the singers it is supposed to support or is so synthetic that it is anachronistic.
Nevertheless, the Mckee Choir members put their heart and soul into their singing on this album and undoubtedly provide Dunham Temple with lively worship services.
Pick:
"What Shall It Take."