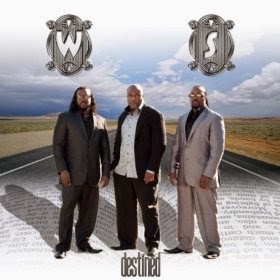 The Williams Singers
Destined
Deznell Music Group (rel. April 2014)
Not to be confused with the Williams Brothers of Mississippi, the Williams Singersis a quartet from Indianapolis, Indiana, the city that brought you, among other artists, Brown's Inspirational Singers, Robert Turner and the Silver Hearts, and Al "the Bishop" Hobbs.
Darnell, Dezrale, and Dezmien are the Indiana Williamses, and their new album, Destined, is one of the best gospel quartet albums I've heard this year. You've got to love a group that name checks the Fairfield Four, the Dixie Hummingbirds, and the Violinaires on "Quartet Sang'n 2," a brief musical history of gospel quartet singing that spotlights the group's own influences.
The Williams Singers are partial to the high pitched harmonies of the Violinaires as well as the extroverted complexity of GMA Hall of Famers Take 6. On "Been Good," which features rising gospel star Zacardi Cortez, the rhythm section sounds borrowed from the Temptations as it backs the group on a head-bobbing song with an athletic call-and-response. Another guest artist, quartet maven Lisa Knowles, solos on "Believe," a song marinated in sweet soul harmonies.
If songs such as "Been Good," and "Good Morning," a drive tempo ode to counting one's blessings, demonstrate the group's traditional side, "Dr. Watts" puts funky swagger in the standard lining-out hymn. "I love the Lord/He heard my cry/and pitied every groan," sings Darnell Williams, who proceeds to pepper his vocals with groans and shouts that sound as if Rance Allen is guesting. Meanwhile, Dezmien Williams tussles with the devil on the bluesy "On My Nerves."
Perhaps most inventive is "Let's Get Married," a bonus track that represents, at least in my experience, the first wedding song set to an up-tempo gospel quartet beat. Couples won't just walk down the aisle to this song, they will strut.
"Quartet singing ain't going nowhere," Darnell Williams declares, and the Williams Singers demonstrate that with a solidly-produced album packed with good songs and exuberant singing.
Pick:
"Been Good," "Good Morning."