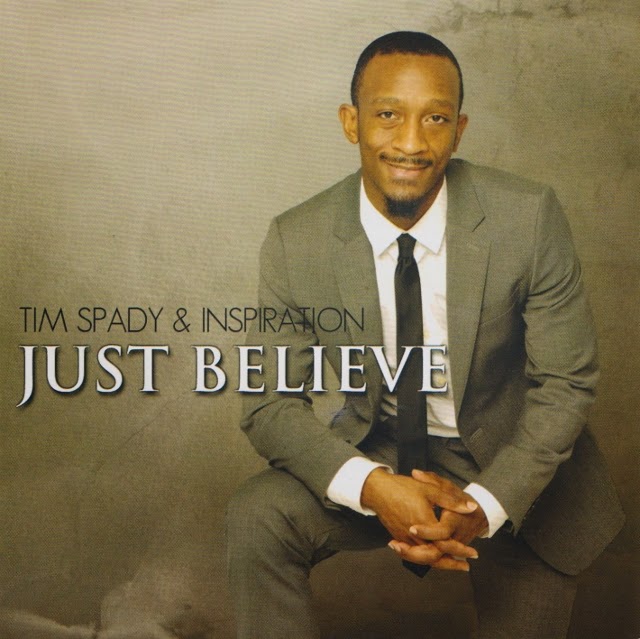 Tim Spady & Inspiration
Tspady Music Productions (released May 27, 2014)
Songwriter and keyboardist Tim Spady's new album, Just Believe, is a compilation of songs, most of which deal with faith, endurance, overcoming, and victory through the simple but often difficult act of unquestioning belief.
Spady's calling card is his melodicism: inventive and hypnotic on the opening track, "Joy Will Come in the Morning," and bursting with scrumptious harmonies on the single, "You Give Me."  His gospel music contains as much pop-classical influence as it does R&B and soul.    
Members of Inspiration handle the album's lead vocals.  Nneka Best contributes two, the better of which is "Use Me," an offering of above-and-beyond discipleship.  Joy Anderson Davis delivers a lovely lead on the title track, which encourages belief even when results are not immediately forthcoming.  O
n "You Give Me," 
Walt Anderson sounds for all the world like a young Ray Parker Jr.
Just as on his 2011 Songs From My Heart, Spady includes one piano instrumental of a classic hymn.  Then it was "Great Is Thy Faithfulness."  Here, it is a variation on "The Solid Rock."  Both demonstrate his deft touch on piano.  He is also the sole accompanist for Mark Collier on "Trust and Believe."  Once again, the unfussy lyrics persuade listeners to keep the faith because things are going to get better…if you just, well, you know.
As he demonstrated on Songs From My Heartand now on Just Believe, Tim Spady has a gift for melody.  He is a songwriter worth watching and a gifted pianist to boot.
Incidentally, Spady, Best, and Chiquita Green, another Inspiration vocalist, can also be heard on Gillian Grannum's 2010 sacred masterpiece, Perfect Peace.
Picks: "You Give Me," "Joy Will Come in the Morning"