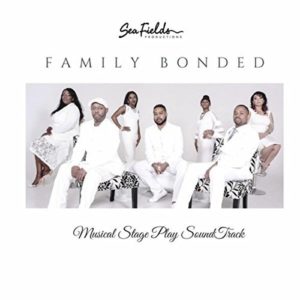 Various Artists
Family Bonded: Musical Stage Play Soundtrack
Sea Fields Productions (release date: October 6, 2017)
http://seafieldsproductions.wixsite.com/2013
By Bob Marovich
In October, theatergoers in Sacramento, California, were treated to a gospel musical called Family Bonded about four siblings who, being abandoned by their mother, are raised by their sister.
Not long after the show ended its October run, Chris Fields, author of the stage play and composer of the featured songs, released a soundtrack starring the original cast.
In addition to Fields, talented cast members Yvette Pennington, Leticia Woods, Gregory Allen, Teresa Perea, Josette Williams, and Donnell Gray get turns at soloing. Perea's "Here I Am" provides the soundtrack with its capstone moment. It is a ballad of praise and discipleship rendered lovingly but also with more than a touch of vulnerability. Woods seeks forgiveness from the family on "I Won't Leave You," a song similar in tone, if not in lyric, to "Here I Am."
Songs about faith, trust in God, and perseverance in the wake of hurt and confusion abound. The melodies are more similar to one another than dissimilar, but the album succeeds when the artists express their emotions with a minimum of backing instrumentation. Tempo-wise, selections vary from the brisk "Alright" and "Give it to Him" to the slow and plaintive "It Will Get Better" and "Long for this Day." Fields interpolates "Pass Me Not, O Gentle Savior" on "See it Through," which transitions into the cheerful ensemble finale "We Are Family, We Are Bonded."
It would help, but not be necessary, to see Family Bonded on the stage to understand the storyline. The soundtrack telegraphs the show's emotional temperature, and each song stands on its own.
Three of Five Stars
Pick: "Here I Am"